Abbiamo superato anche il day 16 alle WSOP 2022, una giornata nettamente interlocutoria per i colori azzurri. Max Pescatori torna al tavolo ma non è certo fortunato all'event #30, mentre Phil Hellmuth è ormai ristabilito dal Covid ed è in corsa in un nuovo Championship.
Monster Stack: niente Simao o Spinella, vince Jukich
Va allo statunitense Mike Jukich la vittoria nel ricco Event #21 delle WSOP 2022, il 1.500$ Monster Stack. L'americano vince il suo primo alloro mondiale battendo in heads up l'olandese Moolhuizen, mentre l'altro yankee Anderson era uscito al terzo posto. I due più titolati, Joao Simao ed Anthony Spinella, avevano chiuso invece rispettivamente quarto e quinto:
1° Mike Jukich United States $966,577
2° Mateusz Moolhuizen Netherlands $597,362
3° Francis Anderson United States $449,912
4° Joao Simao Brazil $341,095
5° Anthony Spinella United States $260,315
6° David Zarrin United States $199,995
7° Yoshiya Agata Japan $154,688
8° Jessica Teusl Austria $120,455
9° Ricardo Caridade Portugal $94,439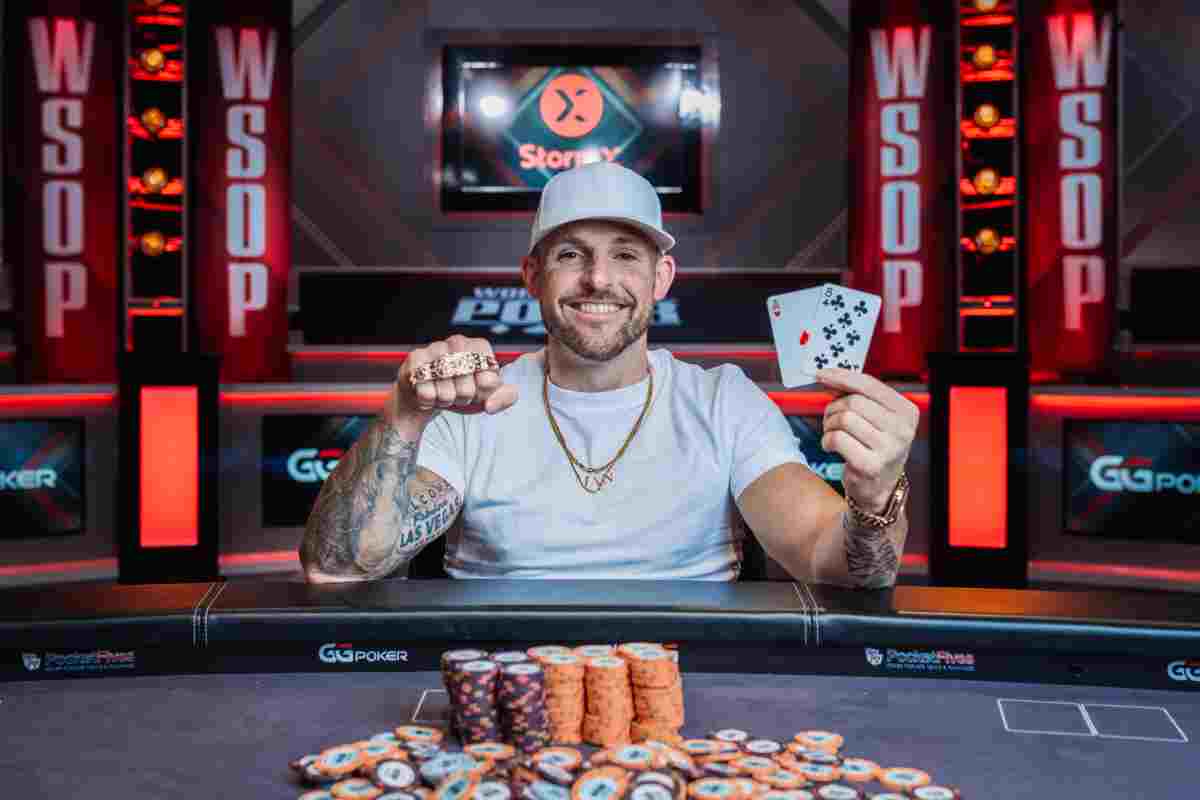 WSOP 2022 Limit Hold'em Championship: serve un giorno in più
Si sapeva che il Limit Hold'em è disciplina che può andare per le lunghe, e infatti il Championship da 10mila dollari di questa specialità richiederà un day 4 inizialmente fuori programma. Però, quando i due ultimi contendenti rimasti hanno dalla propria più di 20 big bets, la matassa può essere davvero ancora lontana dall'essere sbrogliata.
Allora conosceremo solo domani mattina chi, tra Kyle Dilschneider e Jonathan Cohen, solleverà al cielo il primo braccialetto in carriera. Si ripartirà da questa equilibratissima situazione:
Kyle Dilschneider 3,000,000
Jonathan Cohen 2,570,000
WSOP 2022 Event #29: Hellmuth e Melara KO, Kruse punta il primo "gol" nel poker
L'evento più affollato di sempre nel No Limit 2-7 Draw fa transitare 19 artisti delle varianti di poker al final day, che incoronerà il successore di Phil Hellmuth in questo torneo. Proprio The Poker Brat ha dovuto rinunciare a difendere il titolo, essendo stato eliminato anche fuori dai premi così come l'italiano Maurizio Melara.
L'interesse per questo torneo rimane comunque elevato grazie a giocatori di gran talento come il brasiliano Yuri Dzivilievski, noto online come "theNERDguy", che è chipleader alla pari con il californiano McGowan. Poco più indietro l'eterno piazzato Israelashvili, a sua volta a caccia del primo braccialetto dopo una infinità di in the money.
Nel chipcount ufficiale post day 2 si segnala la chance di Max Kruse, l'attaccante tedesco in forza al Wolfsburg che ha una grande passione per le varianti di poker. Max, elogiato in passato anche da Dario Sammartino, ha la possibilità di conquistare l'agognato braccialetto.
1 Jonathan McGowan MARTINEZ, CA, US 1,110,000
2 Yuri Dzivielevski Florianopolis, , BR 1,110,000
3 Roland Israelashvili Forest Hills, NY, US 1,105,000
4 Maxx Coleman WICHITA, KS, US 970,000
5 Yosif Nawabi Simi Valley, CA, US 960,000
6 Drew Scott Kingston, ON, CA 785,000
7 Tomas Szwarcberg Mexico City, , MX 550,000
8 Gabe Paul LAS VEGAS, NV, US 545,000
9 Kane Kalas Philadelphia, PA, US 540,000
10 Kenneth Po SEVEN HILLS, OH, US 485,000
11 Max Kruse Hamburg, , DE 425,000
12 Thomas Newton Smyrna, GA, US 415,000
13 Landen Lucas Scottsdale, AZ, US 365,000
14 Michael McKenna Westfield, NJ, US 295,000
15 Matthew Rosen DES PLAINES, IL, US 295,000
16 Shawn Buchanan ABBOTSFORD, BC, CA 285,000
17 Kyle Miholich Las Vegas, NV, US 285,000
18 Kyle Montgomery FISHERS, IN, US 235,000
19 Eric Tipsword Maryland Heights, MO, US 180,000
Max Pescatori, showdown sfortunatissimo nel PLO
Il pirata italiano non ha giocato molto in questa edizione delle WSOP. L'event #30, 1.000$ Pot Limit Omaha 8-handed, segnava il suo ritorno ai tavoli. Purtroppo al 4 volte campione mondiale è stato fatale uno showdown sfortunato, come non così frequentemente capitano a Pot Limit Omaha. Max Pescatori era finito ai resti preflop con a 4 a 2 contro i a k k j del rivale. Una situazione da circa 75-25% in favore del pirata, che però si è dovuto arrendere dopo un board 4 j 8 9 j .
Degli 1891 iscritti restano in 103 a fine day 1, con questa top 10:
1 Stephen Song Greenwich, CT, US 1,404,000
2 Pedro Arroyos Lubbock, TX, US 1,365,000
3 William Kopp Brecksville, OH, US 1,163,000
4 Chino Rheem LOS ANGELES, CA, US 1,100,000
5 Jerold Saeman Grand Rapids, MI, US 950,000
6 Thomas Taylor Chestermere, AB, CA 820,000
7 Joseph Bernthold GALENA, OH, US 798,000
8 Jeffrey Trudeau Jr. Winter Garden, FL, US 794,000
9 Manuel Stojanovic Chicopee, MA, US 787,000
10 Johann Ibanez CO 712,000
Limit 2-7 Draw Championship: Phil Hellmuth c'è
Chiudiamo il resoconto di giornata con un altro Championship, non proprio affollatissimo, ospitato nelle sale del Paris. Parliamo del 10.000$ Limit 2-7 Lowball Draw Championship, che ha visto 102 giocatori ai nastri di partenza e 43 qualificati al day 2. Raramente come in questo caso la top 10 parla da sola…
1 Oscar Johansson SE 293,000
2 Brian Hastings St. Johns, FL, US 292,000
3 Shaun Deeb LAS VEGAS, NV, US 286,000
4 Jeremy Ausmus Las Vegas, NV, US 250,000
5 Matthew Edgar Clinton Twp, MI, US 248,000
6 William O'Neil Berwyn Heights, MD, US 229,000
7 Vladislav Denisov Glendale, CA, US 204,000
8 Peter Gelencser BUDAPEST, , HU 202,000
9 Hal Rotholz NEW YORK, NY, US 192,000
10 Erik Sagstrom GOTEBORY, , SE 183,000
Oltre a questi, impossibile non segnalare la presenza di Phil Hellmuth. Ristabilitosi ormai pienamente dal Covid, The Poker Brat ha ripreso la caccia al braccialetto numero 17 e ha chiuso la sua busta con 137mila fiches, buone per una ventunesima posizione parziale.
Oltre a Hellmuth la ridda di nomi è ancora notevole, dal caldissimo Jeremy Ausmus a Zinno, a Benyamine, al redivivo Urbanovich e un Brandon Shack-Harris piuttosto short.
Immagine di copertina: Max Pescatori (courtesy PokerNews & Katerina Lukina)