Si è completato il primo giro settimanale delle Carnival Series. In evidenza "Poldo181109", "Romauro96 e" e "kekko9221".
€100 NL Hold'Em CS-63 NL Hold'Em Rollercoaster a "Poldo181109"
"Poldo181109" va a segno anche in questa edizione di Carnival Series all'evento numero 63, il NL The Rollercoaster.
"Poldo181109" si è messo tutti alle spalle, chiudendo per un premio da €1.277+€1.863. 
Al secondo posto ha chiuso "Kiroisenko", runner up per €1.277+€751. 
Il torneo ha visto la partecipazione di 170 giocatori, i quali hanno portato il prize pool oltre la quota garantita di €15.000 di soli €300, per 29 piazze a premio. 
€100 CS-59 NL Carnival Parade a Romauro96
Hanno invece raggiunto il garantito i 452 giocatori iscritti all'evento numero 59, il Carnival Parade da €100 di buy in. 
Il montepremi da €40.680 se lo sono divisi i primi 79 del payout.
Mauro "Romauro96" Alessi ha messo le mani sul primo premio, per €6.948. 
Tra i piazzati al tavolo finale, "77doge", secondo e "antopacino", terzo.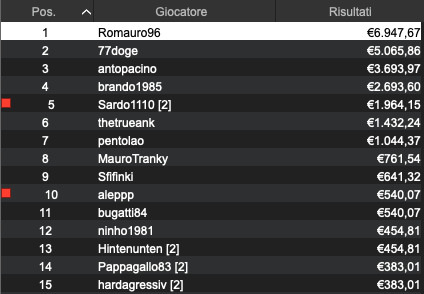 €50 CS-56 NL Hold'Em Shark Buffet PKO a kekko9221
Un totale di 706 players non è invece voluto mancare all'evento numero 56 delle CS, che ha distribuito premi per €31.770. 
I 119 giocatori in the money, hanno trovato in "kekko9221" il loro condottiero, il quale ha terminato con un primo premio da €2.238+€2.918.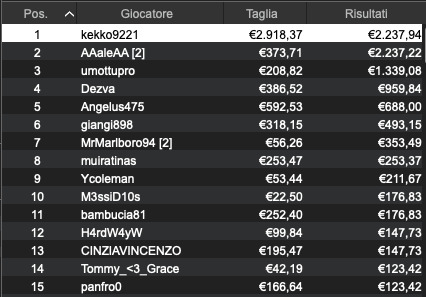 €50 CS-60 6-Max PKO Lightning Bolt a sturbao
È andato a "sturbao" il 6-Max delle ore 22,00, il quale ha messo con le spalle al muro un field complessivo da 477 players, per un prize pool GTD da €21.465. 
Tra i piazzati il runner up, "frakkalagan" e "assomatto13", terzo.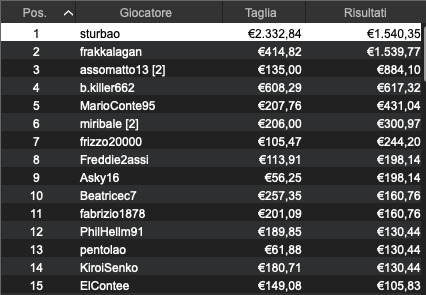 €100 Need For Speed a bicycleorbik
Un rapido accenno, infine, al Need For Speed, al quale ieri sera hanno preso parte 51 players iscritti per un prize pool di GTD di €5.000 GTD.
Ha messo in tasca la vittoria "bicycleorbik", primo classificato per €1.783, eliminando in heads up "hearquaked", runner up per €869.