Vincono "MeLLowYeLL0w", "whitediabolic" e "HunterWolf92"
€125 SCOOP-64H PrimeTime Battle PKO a MeLLowYeLL0w
Dopo circa otto ore di poker, "MeLLowYeLL0w" ha messo con le spalle un field formato da 815 giocatori per un primo premio da €7.392+€7.130 circa. 
Il vincitore si è liberato in heads up di "xJaNdRo27x" che ha a sua volta preceduto "eliano_bere", giunto terzo. 
Il numero di iscritti ha generato un prizepool da €100.000 GTD suddiviso per 151 players in the money.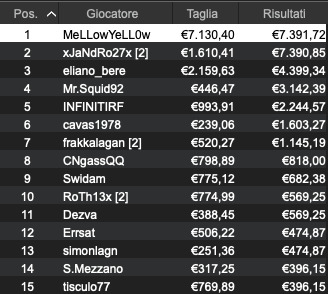 €250 SCOOP-65H NLHE 6-Max a "whitediabolic "
All'evento più prestigioso della notte, Donato "whitediabolic" De Bonis, ha invece vinto l'evento numero 65, emergendo su un totale di 252 iscritti per un primo premio da €4.450+€4.183.
Dietro di lui "This is soo2019", runner up €4.450+€1.831. 
I due si sono spartiti la parte più grossa di un montepremi di €56.700 per 47 posti a premio.
€50 SCOOP-63H 8-Max a HunterWolf92
Schedulato sulla distanza di un solo giorno, il PKO 8-Max ha messo a referto un totale di 978 players, i quali hanno generato un PP di €50.000 anche qui GTD. 
Tra i 183 players a premio, primo posto è andato a "HunterWolf92", il quale ha messo in tasca un premio di € 3.723+€3.456. 
Tra i primi "lil_cheese27" e "pollame14".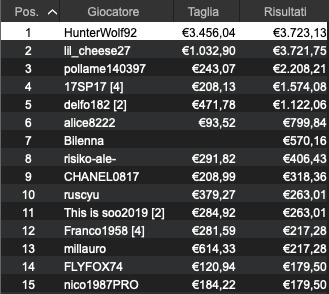 €50 SCOOP-65L Blossom a dark side798
Tra i 670 iscritti al The Bottom delle ore 22,00, è emerso invece "dark side798", primo classificato per un premio di €2.077+€2.392.
Dietro di lui, piazzato d'onore, "BAAARTIGAN", runner up per €2.077+€326.
Degno di menzione il terzo posto di "PVREHATE". 
Il torneo ha fatto registrare un PP da €30.150 generato da 670 iscritti e 119 posti a premio.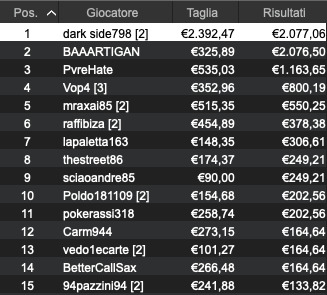 €100 Need For Speed a "sestosenso19"
A vincere il turbone della notte, ci ha pensato invece "sestosenso19", primo per €585+€1.246.
Il vincitore ha trionfato su un field di 94 giocatori, dei quali 17 si sono spartiti un PP da €8.460.