La giornata dedicata ai domenicali ha messo in evidenza la prestazione di Donato "whitediabolic" De Bonis. Primi ai Day 1 "sarafand1″ e "foxpeppefox"
"sarafand1″ e "foxpeppefox" in testa ai day 1
€125 scoop-50H Primetime Battle in testa sarafand1
È "sarafand1" ad aver girato in testa alla boa di fine day 1, nel primo torneo facente capo allo SCOOP di cui vi parliamo stamattina. 
Giocato in modalità PKO, il PTB ha richiamato alle casse 1.193 giocatori per un prize pool da €134.212,50 e 215 in the money. 
Tra i primi anche "ilpuntero" e "pinkporcel".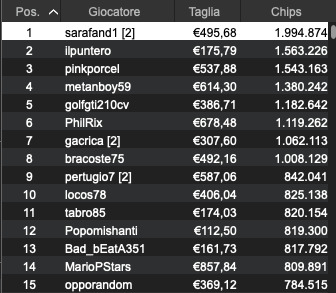 €250 SCOOP-51H Spring High Roller in testa "foxpeppefox"
Sono ancora 73 i giocatori in lizza per portare a casa i premi più elevati dello Spring High Roller SCOOP, il PKO da €250 di buy in. 
Il totale di 373 giocatori iscritti, ha generato un montepremi che ha superato il garantito da €75.000, per l'esattezza €83.925. 
Proveranno a entrare tra i  62 giocatori a premio, "foxpeppefox", e "andrea832", rispettivamente primo e secondo del count.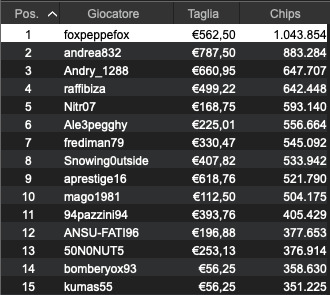 €50 SCOOP-50L NL Hold'Em Primetime Battle  a damonsalvator19
Un totale di 2.861 iscritti non è invece voluto mancare allo SCOOP numero 50L, il 8-Max PKO per il quale è stato raggiunto un PP da €64.372,50.
Tra i primi 519 che hanno piazzato la bandierina virtuale, l'ha spuntata "damonsalvator19", primo per €6.000 complessivi scarsi.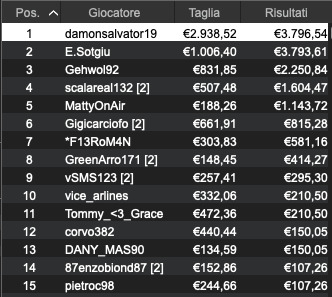 €50 SCOOP-51L The Blossom a whitediabolic
Buy In medio anche per il gettonatissimo The Blossom Low, trasformato per l'occasione in evento SCOOP da €37.485 di montepremi.
Tra gli 833 iscritti e i 139 a premio, l'ha spuntata Donato "whitediabolic" De Bonis, primo per €2.648+€2.345.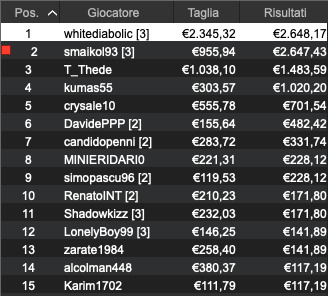 €100 SCOOP-52H Rollercoaster 6-Max Turbo a sturbao
Dopo circa 5 ore scarse di gioco ha invece vinto l'ultimo torneo SCOOP del palinsesto Fabio "sturbao" Sturba, nella foto in homepage, primo davanti a 365 rivali per €3.839+€2.465.
Il vincitore ha preceduto "MIC995" e "raffa_N5". 
Il numero delle entries ha originato un prize pool di €32.850 per 65 giocatori a premio.