Domenicali da completare questa sera quando sarà disputati il Day 2 del Sunday Special. In testa "XJAGUAROX"
Al NOS comanda "ruob"
MicroMillions-65: €20 Daily Main a SajurVellA
All'evento numero 65 delle MicroMillions hanno partecipato 2.127 giocatori che hanno messo a referto un prize pool di €38.286. 
In testa al payout ha chiuso "SajurVellA", primo classificato con un totale di €2.323+€1.933.
La vittoria è arrivata al termine di una coda del torneo anche in questo caso esente da accordi dell'ultimo minuto.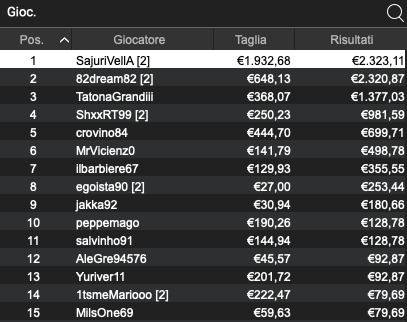 €100 Need For Speed a davide84gus
L'evento di chiusura della prima giornata MicroMillions si è invece risolto dopo esattamente un'ora e 40 circa di gioco effettivo con una nuova vittoria di "davide84gus".
Il successo è arrivato in questo caso senza deal tra i primi arrivati al traguardo che si sono spartiti le parti più grosse di un prize pool di €9.720. 
Tra i 108 iscritti, sono stati 20 i players in the money.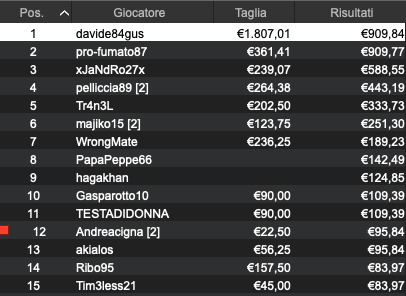 MicroMillions-01: €50 NL Hold'Em HR a Enne98
Otto ore scarse sono servite a "Enne98", per portare a casa l'evento numero 60 delle MicroMillions, il NL HR. 
Anche in questo caso prize pool superato: €58.275 di montepremi ufficiale, rispetto ai €35.000 proposti da PokerStars. 
Tra i 1.1.29556 giocatori iscritti, 231 sono andati in the money e il vincitore ha messo in tasca una cifra di €3.700+€4.649.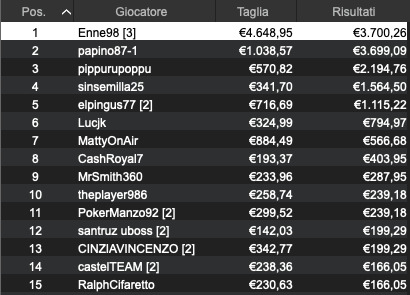 MicroMillions-63: €10 NL Hold'Em The Big a Slotmachine4
L'evento numero 63 ha invece messo a referto un montepremi totale di €34.146, superiore rispetto ai €30.000 GTD.
Tra le 3.794 entries, 679 sono andati a premio, capitanati dal vincitore, "Slotmachine4", primo per €1.990+€1.337, anche qui orfano di deal.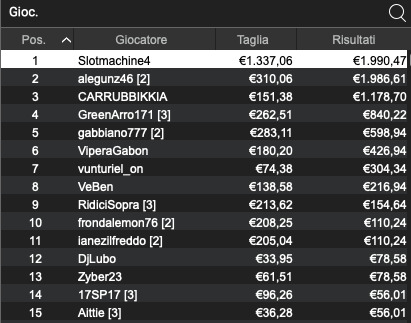 €250 Sunday High Roller a holyjtiburon
Parlando dei buy in più alti, "holyjtiburon" si è messo dietro un field complessivo che, insieme a lui, ha partecipato al Sunday High Roller da €250 di costo di iscrizione che, per una volta, si è chiuso in una sola giornata di torneo. 
In questo caso prize pool GTD da €30.000 superato in virtù della presenza di 153 iscritti e arrivato a lambire quota €34.425.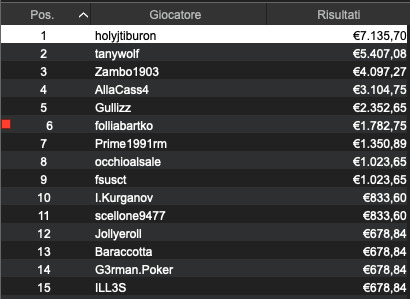 €100 Hold'Em Sunday Special in testa XJAGUAROX
Terminiamo il nostro lungo cammino con il racconto del Day 1 del Sunday Special da €75.000 garantiti che si stanno spartendo i 95 giocatori left, su un totale di 167 in the money. Prize pool ufficiale pari a €81.450.
Al primo posto provvisorio c'è "XJAGUAROX", che si ripresenterà questa sera al Day 2 forte di un totale di 293.000 chips.